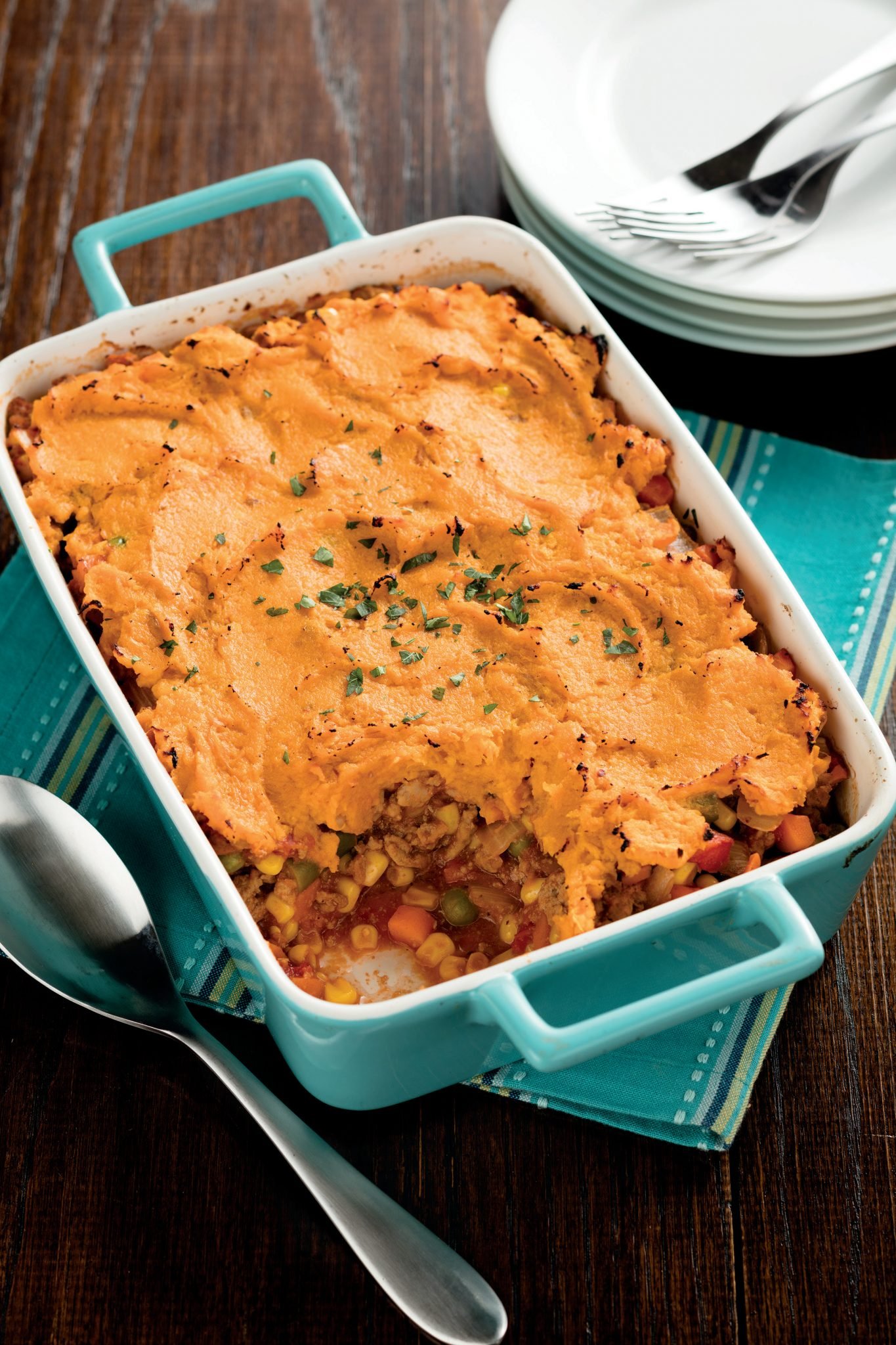 Cold Weather Comfort Foods With A Healthy Twist
It's cold outside and you're probably craving your favorite (nutritionally questionable) winter comfort foods.
Before you derail your diet and your health, check out these diabetes-friendly tips, foods, and cold-weather recipes from the American Diabetes Association. It's time to pull out your fuzzy sweaters, don your coziest scarves, pile extra blankets on the bed…and enjoy the cold-weather foods we're all dreaming about. Most of us associate the chill of winter with mugs of hot chocolate, calorie-laden casseroles, and meaty stews loaded with flavor (and a big helping of salt and fat!). But if you are one of the 30 million people in the United States living with diabetes, the recipes you crave the most when temperatures drop could wreak havoc on your eating plan.
Don't worry: The American Diabetes Association is here to help you enjoy the very best dishes of the season without sacrificing your health.
"This time of year, it's natural to crave foods that are heavy in carbs, fat, salt, and, yes, sugar," says Chef Jennifer Bucko Lamplough, MBA, coauthor along with Lara Rondinelli-Hamilton, RD, CDE, of The Diabetes Cookbook: 300 Recipes for Healthy Living Powered by the Diabetes Food Hub. "But if you have diabetes or prediabetes—and even if you don't—it's smart to resist your desire to hibernate on the couch with a box of doughnuts."
"Luckily, many of the dishes people love to eat when it's cold outside can be recreated into healthier versions of themselves," says Rondinelli-Hamilton. "You can get the flavor you crave without those ingredients that are bad for us all, but especially risky for people with diabetes."
 The Diabetes Cookbook is full of recipes that are satisfying and delicious. It's the only cookbook to take into account a variety of healthy eating patterns that will appeal to everyone, with or without diabetes. Categories include gluten-free, flexitarian, Mediterranean, low-glycemic, low-carb, grain-free, and dairy-free recipes, among others. Designed to make healthy eating easier, realistic, and delicious, the cookbook offers hundreds of recipes and meals tested on people living with diabetes and their families.
Here are five tips to help you enjoy the warming foods of fall and winter without wreaking havoc on your health:
1. Get Your Fill of Healthy and Hearty Soups 
"Soups, stews, and chilis warm and fill you up without weighing you down, so they're great winter foods," says Bucko Lamplough. "Soup also makes a great last-minute meal because it comes together quickly, and can often be made from odds and ends you already have. When you are extra hungry, try a hearty bean soup or chili, and if you're in the mood for a lighter meal, blend some roasted winter squash into a silky puree."
2. Revel in the Foods of the Season 
Hearty, filling, and warming vegetables like butternut squash, cabbage, kale, and beets are abundant this time of year, and there are countless ways to enjoy them. In place of your usual mixed greens salad, enjoy a kale salad sprinkled with lemon instead. Or roast a medley of root vegetables like beets, sweet potatoes, and parsnips in the oven to bring out their natural sweetness. Toss pomegranate seeds, red onions, and shredded carrots into your quinoa dishes for color and bursts of flavor.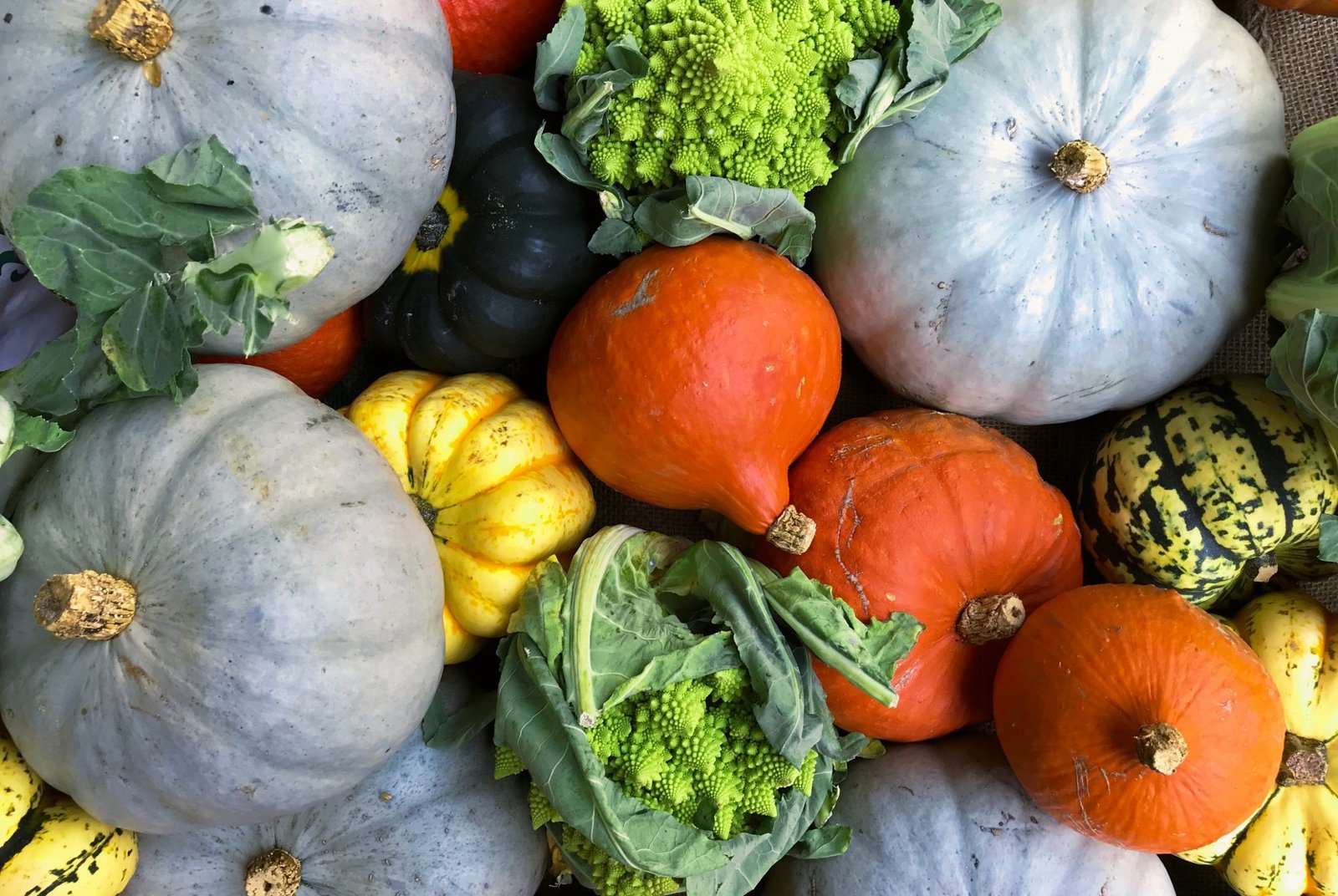 3. Don't Go Overboard on Carbs
Carbs and cold weather seem to go hand in hand, and while it's okay to eat some complex carbohydrates, be careful not to overindulge this time of year. Make sure you're enjoying whole wheat bread and whole wheat pasta, and try to limit foods that spike your blood glucose levels, like rice, white bread, and, of course, sugar. And remember, the carb-heavy portion of your food should really cover no more than ¼ of your plate.
4. Add Spice to Deepen the Flavor of Your Foods and Drinks
Everyone loves the flavors of fall and holiday spices. But that's no excuse to fill up on "pumpkin spice" flavored coffee, donuts, cookies, teas, and breakfast cereals. Instead, get your fix naturally and healthfully (and minus the added sugar!). Sprinkle cinnamon on your sweet potato, your dessert, or add a bit to your homemade tomato sauce to deepen the flavor (trust us). You can also add a pinch of nutmeg to your morning coffee, or some fresh or powdered ginger to spice up your afternoon cup of herbal tea.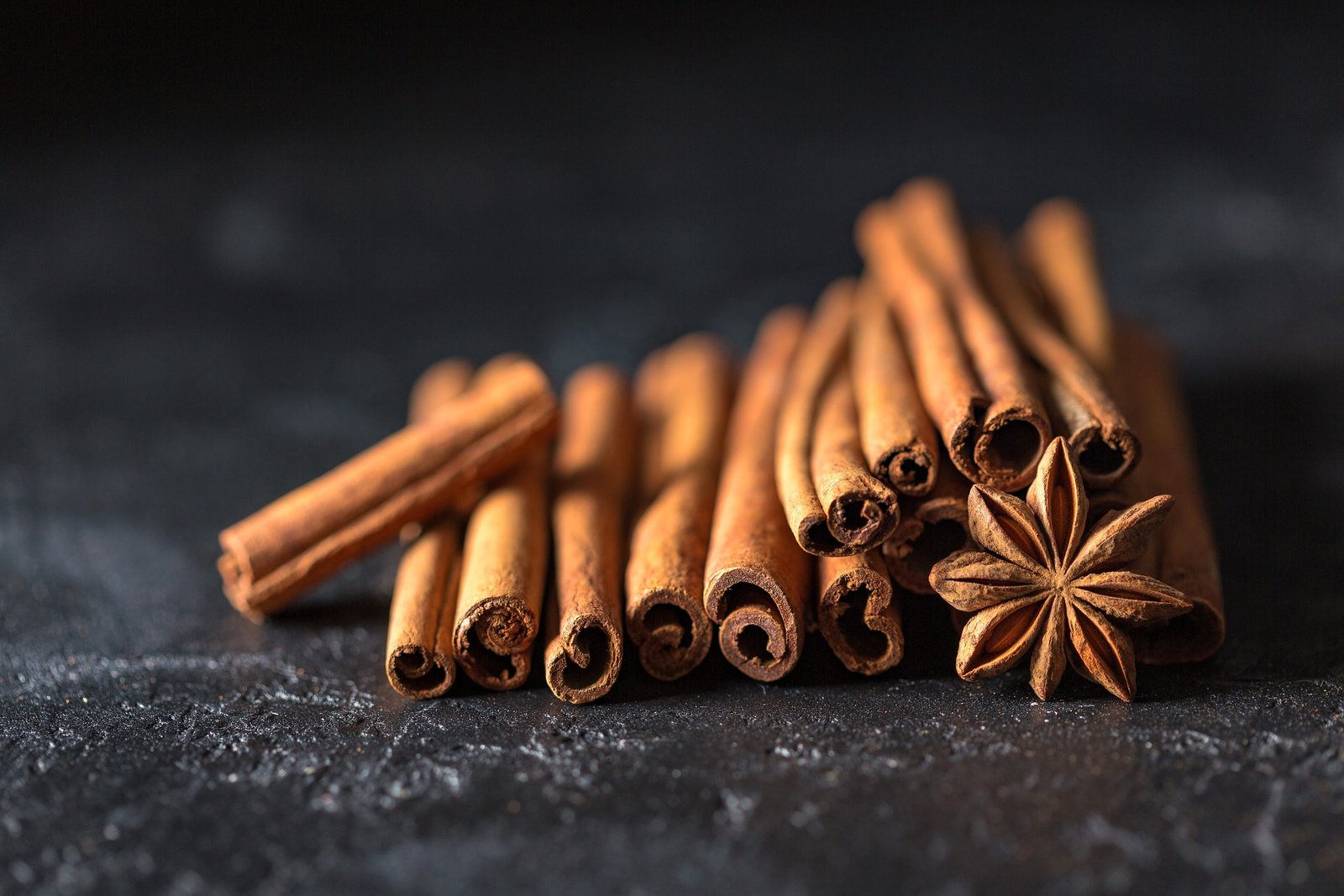 5. Enjoy Healthy Versions of Your Favorite Cool-Weather Desserts
"The winter months are full of holiday dinners, parties, and events where you may be tempted to go overboard on dessert," says Rondinelli-Hamilton. "The good news is, you can still occasionally enjoy something sweet without letting it derail your health. For example, if you want a small piece of pie after dinner, plan to pass on eating a dinner roll or sweet potatoes during the main course. And remember, it's easier than ever to make a healthier dessert with the many diabetes-friendly sweeteners available today. Just use moderation, and you don't have to miss out on something sweet."
"When you are full of good food made from healthful ingredients, the chill of cold weather seems a little less biting," concludes Bucko Lamplough. "Take time to celebrate and enjoy the seasonal meals you love. As long as you incorporate them into your meal plan as part of a well-balanced diet, they will help you feel healthy, vibrant, and in control."
Three Cool-Weather Dishes from The Diabetes Cookbook
Excerpted from The Diabetes Cookbook: 300 Recipes for Healthy
Living Powered by the Diabetes Food Hub (American Diabetes Association,
November 2018, ISBN: 978-1-580-40680-2, $24.95)
1. Butternut Squash Soup
Savor rich fall flavors with this delicious and fast soup. Using frozen butternut squash in this recipe is a big time-saver—cooking the squash would normally take about an hour. Check the vegetable section of the frozen-food aisle for frozen butternut squash.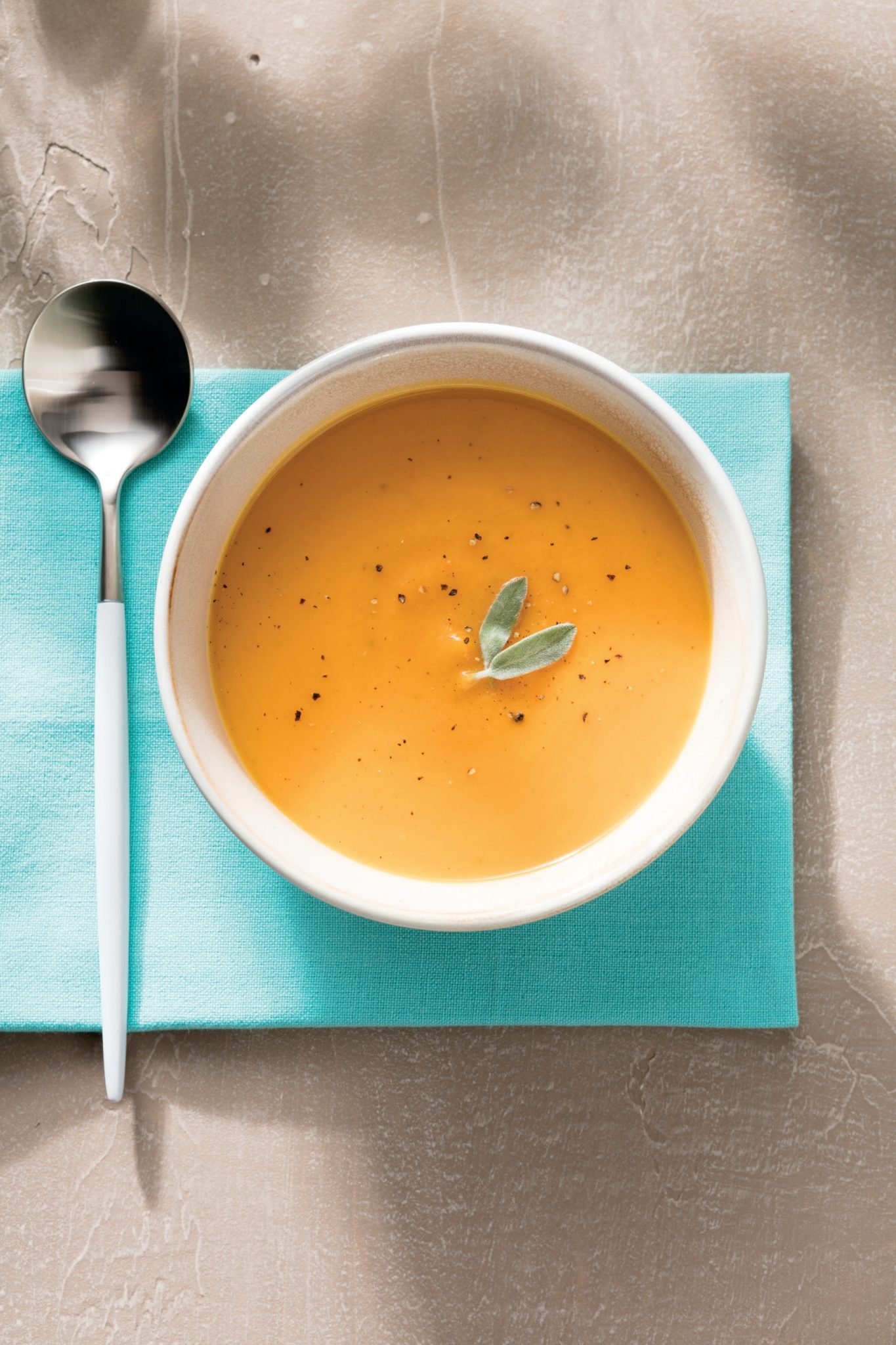 Prep time: 10 minutes
Cook time: 30 minutes
Servings: 5
Serving size: 1 cup
2 (12-ounce) packages frozen butternut squash
1 tablespoon olive oil
1 onion, diced
1 large carrot, diced
2 cloves garlic, minced
24 ounces fat-free low-sodium chicken broth
1/2 teaspoon ground black pepper
1/8 teaspoon dried sage
Microwave the frozen squash for 5 minutes.
In a large soup pot, heat the oil over medium-high heat. Add the onion and carrot and sauté 5 minutes, or until onion is clear.
Add the garlic and sauté 30 seconds. Add the squash and sauté 3 minutes.
Add the remaining ingredients. Bring to a boil, reduce heat, and simmer 15 minutes.
After the soup has cooled slightly, transfer it to a blender and blend until smooth or use an immersion blender in the pot to blend until smooth. If desired, return the puréed soup to the pot to reheat before serving.
Choices/Exchanges 
1 Starch, 1 Nonstarchy Vegetable, 1/2 Fat
Nutrition Facts
Calories 110
Calories from fat 25
Total fat 3.0 g
Saturated fat 0.4 g
Trans fat 0.0 g
Cholesterol 0 mg
Sodium 90 mg
Potassium 690 mg
Total carbohydrate 19 g
Dietary fiber 4 g
Sugars 5 g
Protein 4 g
Phosphorus 75 mg
2. Sweet Potato Shepherd's Pie
This 30-minute meal packs in lean protein from the turkey, lots of vegetables, and healthy carbs from the sweet potatoes.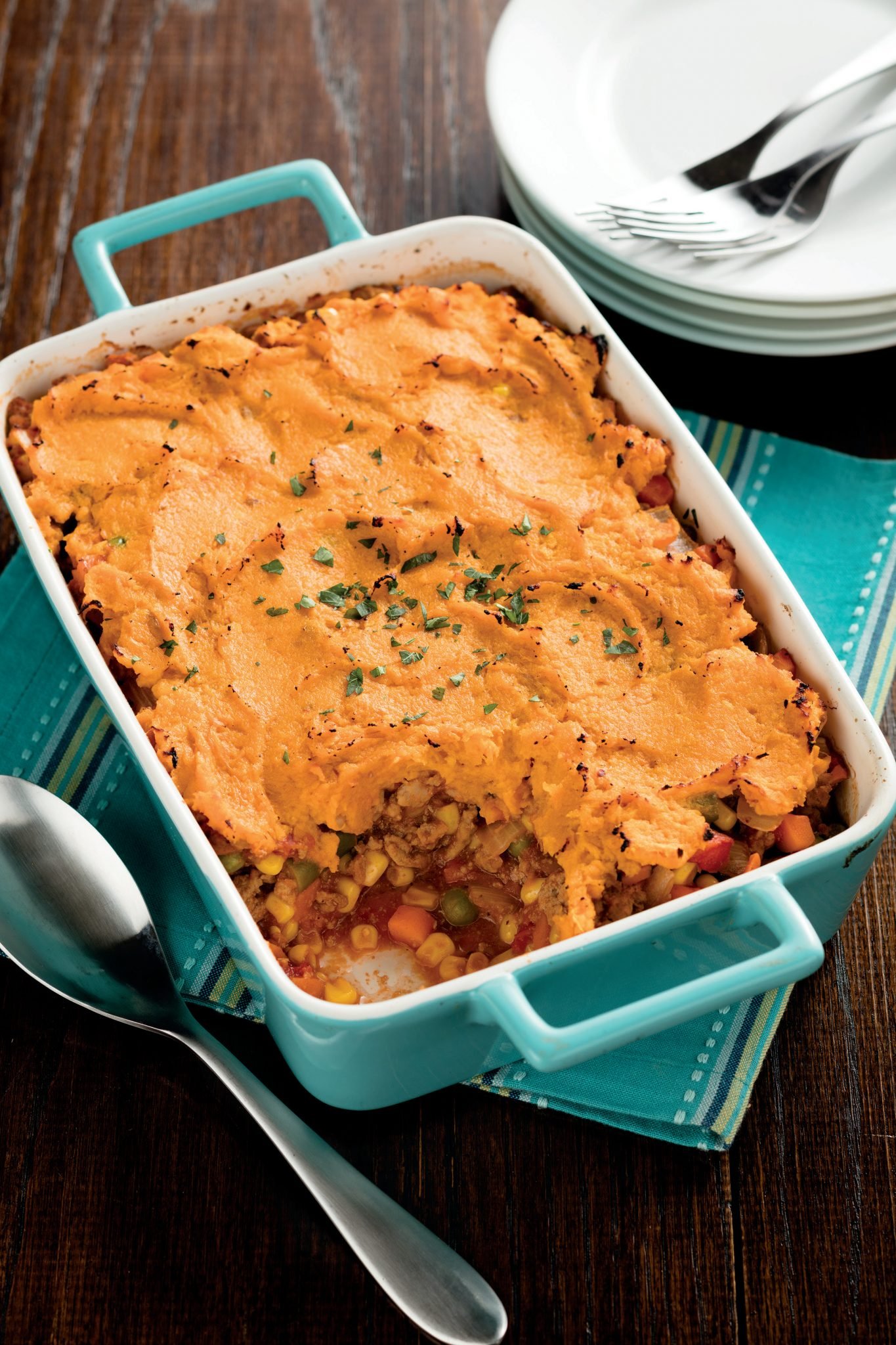 Prep time: 30 minutes
Cook time: 20 minutes
Servings: 8
Serving size: 1 1/2 cups
2 large sweet potatoes (about 9 ounces each), peeled and diced
Nonstick cooking spray
1 small onion, diced
2 cloves garlic, minced
1 1/4 pounds lean ground turkey
1 (14.5-ounce) can diced tomatoes
1 (16-ounce) bag frozen mixed vegetables (carrots, corn, peas, and green beans)
1 tablespoon yellow mustard
2 tablespoons Worcestershire sauce
1/4 teaspoon ground black pepper
2 teaspoons cornstarch
1 tablespoon cold water
2 tablespoons trans-fat-free margarine
Place sweet potatoes in steam basket in a medium pot with 2 cups water. Bring to a boil, reduce heat, and simmer. Cover and steam until tender, about 15 minutes.
While potatoes are cooking, spray a large sauté pan with cooking spray. Add onion and sauté over medium-high heat 3 minutes or until onion looks clear. Add garlic and sauté 30 seconds. Remove from pan and set aside.
Add turkey and cook until brown, about 6-7 minutes. Add onion back to pan and stir to mix.
Add diced tomatoes, mixed vegetables, mustard, Worcestershire sauce, and pepper. Bring to a simmer.
In a small bowl, mix together cornstarch and water. Add to turkey mixture and stir. Let simmer 5 more minutes.
Meanwhile, drain the sweet potatoes. Place sweet potatoes in a medium bowl and mash with a potato masher. Add margarine and whisk until smooth.
Preheat broiler. Pour cooked turkey mixture evenly into an 11-by-14-inch pan or mediumcasserole dish. Spread sweet potatoes evenly on top of turkey mixture.
Broil 5 minutes.
Make It Gluten-Free: Confirm all ingredients are gluten-free and this dish can be gluten-free.
Choices/Exchanges 
1 Starch, 1 Nonstarchy Vegetable, 2 Lean Protein, 1 Fat
Nutrition Facts
Calories 240
Calories from fat 70
Total fat 8.0 g
Saturated fat 2.2 g
Trans fat 0.1 g
Cholesterol 55 mg
Sodium 250 mg
Potassium 550 mg
Total carbohydrate 23 g
Dietary fiber 4 g
Sugars 8 g
Protein 17 g
Phosphorus 205 mg
3. Quinoa Dessert Pudding
This pudding is a treat during the holidays. Quinoa is a high-protein whole grain. Remember to rinse the quinoa before cooking.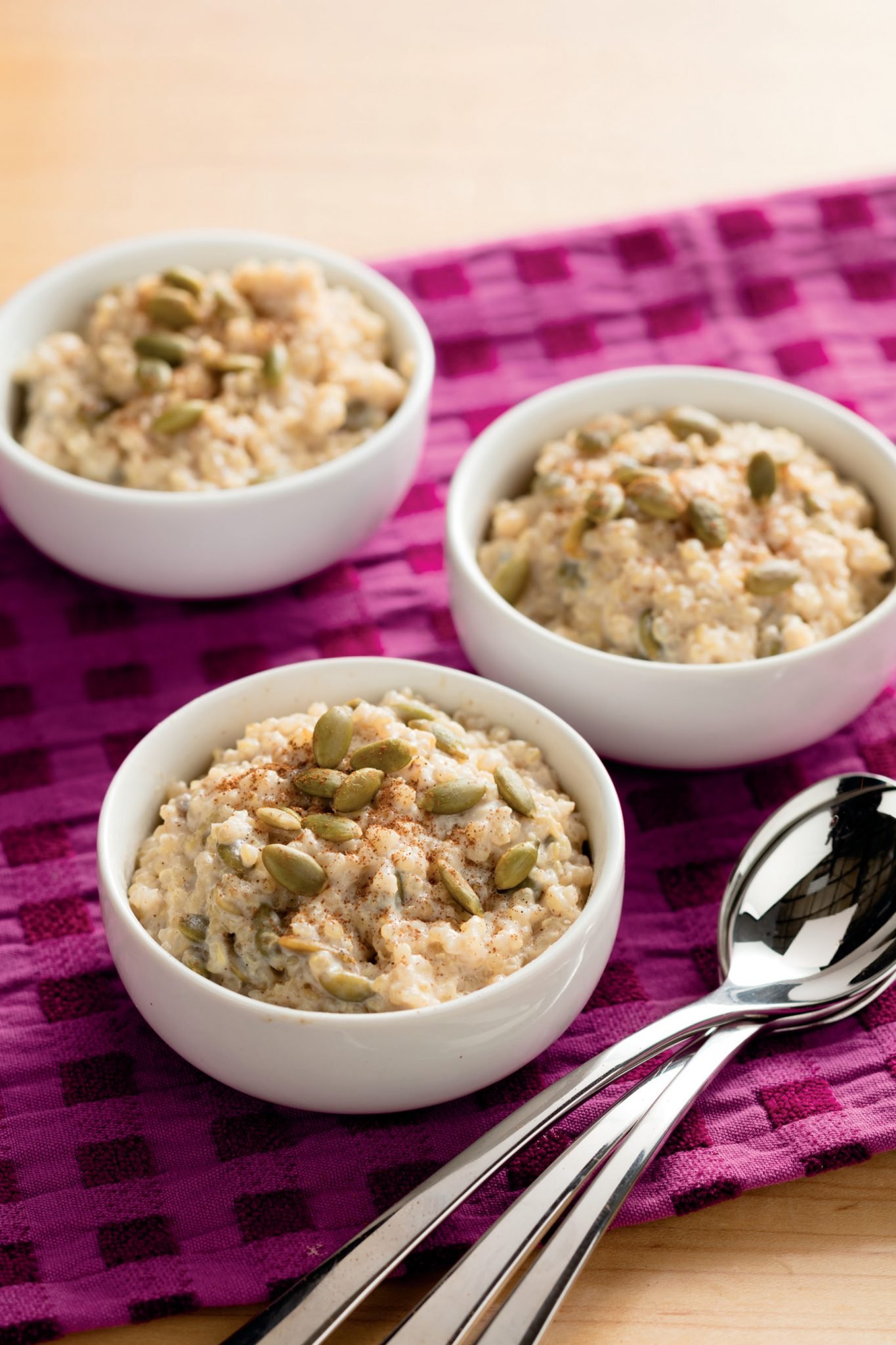 Prep time: 10 minutes
Cook time: 45 minutes
Serves: 9
Serving size: 1/3 cup
1 cup quinoa
1 1/2 cups skim milk
1 1/2 cups fat-free half-and-half
1/4 cup low-calorie brown sugar blend (such as Truvia or Splenda)
1 teaspoon vanilla extract
1/2 teaspoon ground cinnamon
1/4 teaspoon ground nutmeg
1/2 cup pumpkin seeds, toasted
Rinse quinoa under cold water for 2 minutes.
Whisk together milk, fat-free half-and-half, brown sugar blend, vanilla, cinnamon, and nutmeg in a medium saucepan over medium heat. Bring to a simmer.
Once the milk mixture is simmering, stir in quinoa and reduce heat to a low simmer.
Partially cover the pan and cook 40 minutes, stirring every 10 minutes.
When quinoa is done cooking, stir in toasted pumpkin seeds and serve.
Choices/Exchanges 
1 Starch, 1/2 Fat-Free Milk, 1/2 Fat
Nutrition Facts
Calories 150
Calories from fat 45
Total fat 5.0 g
Saturated fat 1.0 g
Trans fat 0.0 g
Cholesterol 5 mg
Sodium 60 mg
Potassium 300 mg
Total carbohydrate 21 g
Dietary fiber 2 g
Sugars 7 g
Protein 7 g
Phosphorus 265 mg