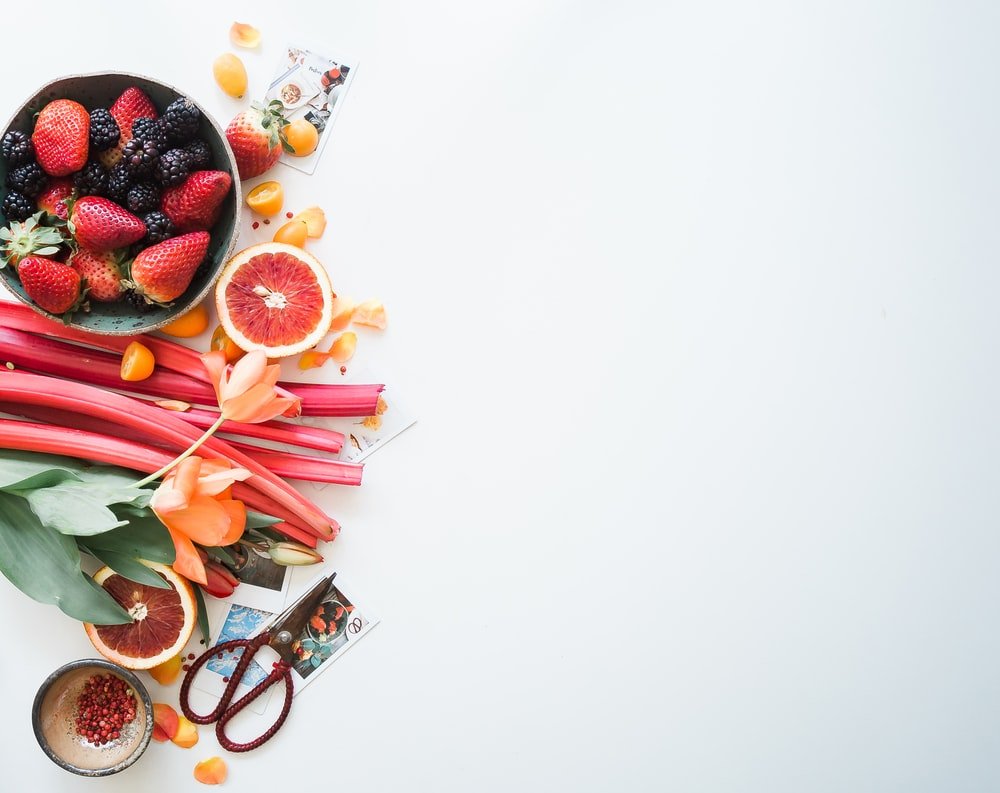 How To Embrace The Mediterranean Lifestyle And Enjoy Stellar Health
It's So Much More Than a Diet.
The popularity of the Mediterranean diet is no surprise. After all, it helps prevent diabetes, heart attacks, and strokes; reduces inflammation; lowers your risk of dementia, and may even extend your lifespan. Amy Riolo says if you want to get the most out of the Mediterranean diet—which was named Best Diet Overall for 2019—you must also adopt the Mediterranean lifestyle. Since May is Mediterranean Diet Month, now is a great time to get started.
"The Mediterranean 'diet' is more than the foods you consume; it's also a way of life. The people in this part of the world live in a way that optimizes health. But to achieve the same level of wellness, you can't just eat the foods of the region. You must also commit to its food philosophy and make lifestyle changes that feed your body, mind, and soul." – Amy Riolo, best-selling author, chef, television personality, and educator
In the Mediterranean, people not only value the preparation and enjoyment of natural whole foods, but they participate in communal eating and make regular physical activity a priority. Together, these factors make them some of the healthiest people in the world. If you are one of the 25 million people in the U.S. with diabetes, you too will benefit from the Mediterranean way of life.
The following tips will help you enjoy the Mediterranean diet as part of a greater lifestyle where food is steeped in a rich tradition of community and activity.
First, start thinking of food as an ally. To fully benefit from a Mediterranean-style eating pattern, you should adopt the belief that food is a friend—instead of something problematic. Throughout the region, food plays an important role. It is viewed not only as traditional medicine, but also as a form of artistic expression, a social activity, a cultural relic, and most of all, a symbol of hospitality.
Embrace the Mediterranean-style eating pattern. The great thing about this eating pattern is that there's no "one-size-fits-all" daily intake list to stick to. It simply focuses on seasonal produce, fish and seafood, poultry, eggs, dairy, and smaller amounts of meat and sweets. To start following a Mediterranean-style eating pattern, plan your meals around plant-based foods including seasonal vegetables and fruit. Be sure to incorporate fish at least two to three times a week. Cook with olive oil. Enjoy dairy often, and consume meats and sweets only sparingly. Try to cook as much of your food as possible and incorporate the freshest, highest-quality foods you can find.
Tune into the eating process. "In the U.S., we tend to think of mealtime as something we have to do, instead of something we want to do," says Riolo. "But the eating process is a big part of life in the Mediterranean. It's a major topic of conversation, and people think about it all day. To emulate this in your own life, start finding ways to get excited about cooking and eating Mediterranean-style meals. Search for healthy and delicious recipes you'll enjoy, make a meal plan every week, and schedule times when you'll be able to cook. Then, find ways to make cooking fun. Host a themed dinner party or invite friends over to cook a meal together. When you're finished cooking, sit down and enjoy the fruits of your labor."
Nurture strong social ties through communal eating. Every country and culture in the Mediterranean has its own way of encouraging people to eat together. (In fact, eating alone was once frowned upon throughout the region!) Restaurant dining is a rarity, and most meals are served family-style at home. This tradition has been linked to improved digestion and eating less overall. Further, eating with others contributes to overall well-being.
"Even modern researchers have concluded that having at least three confidants whom you can call upon after a bad day plays a great role in longevity," says Riolo. "Sharing the table with people you care about can be even more rewarding—it provides a sense of comfort, security, and stability. Strive to enjoy regular communal meals with your loved ones. Pencil it into your schedule, as you would any other activity, and when you can, include meal prep as part of the fun! In addition to having regular family dinners, enjoy lunch outings with coworkers and host a potluck dinner party with friends."
Get physically active. Americans don't typically get the 30 to 60 minutes of physical activity we need daily. When this is compounded with an unhealthy diet, it causes weight gain that can lead to diabetes, clogged arteries, and other health problems. But in the Mediterranean region, the simple tasks of daily life—things like hanging clothes out to dry, shopping, and cooking—naturally require more activity and calorie expenditure. Nightly walks with family and friends, more walking due to limited parking, and the abundance of stairs also keep people healthy throughout the region.
Try the following ways to incorporate exercise into your routine.
Play a team sport.
Garden.
Take the stairs and walk whenever possible.
Take walks after meals.
Sign up for exercise and/or dance classes.
Meet friends and relatives at parks, gyms, sports meets, or lessons, rather than at restaurants.
Invite people to walk and window shop while catching up instead of sitting down and talking.
Cook your own meals! Shopping for produce at markets, going grocery shopping, preparing food, and cooking are great ways to burn additional calories.
"You'll get the greatest benefit from the Mediterranean diet when you think of it as a part of a healthy lifestyle," concludes Riolo. "The food you eat is important, but so is enjoying that food with a network of people you care about, and getting up and moving so your body stays strong and healthy. Together, these changes create lasting wellness and vitality."
Spinach-Stuffed Bread Triangles
(Fatayer bil Sabanikh)
Excerpted from The Mediterranean Diabetes Cookbook, 2nd Edition: A Flavorful, Heart-Healthy Approach to Cooking 
Vegan
Serves: 12 | Serving Size: 2 triangles | Prep Time: 15 minutes, plus 1 hour rising time |
Cook Time: 20 minutes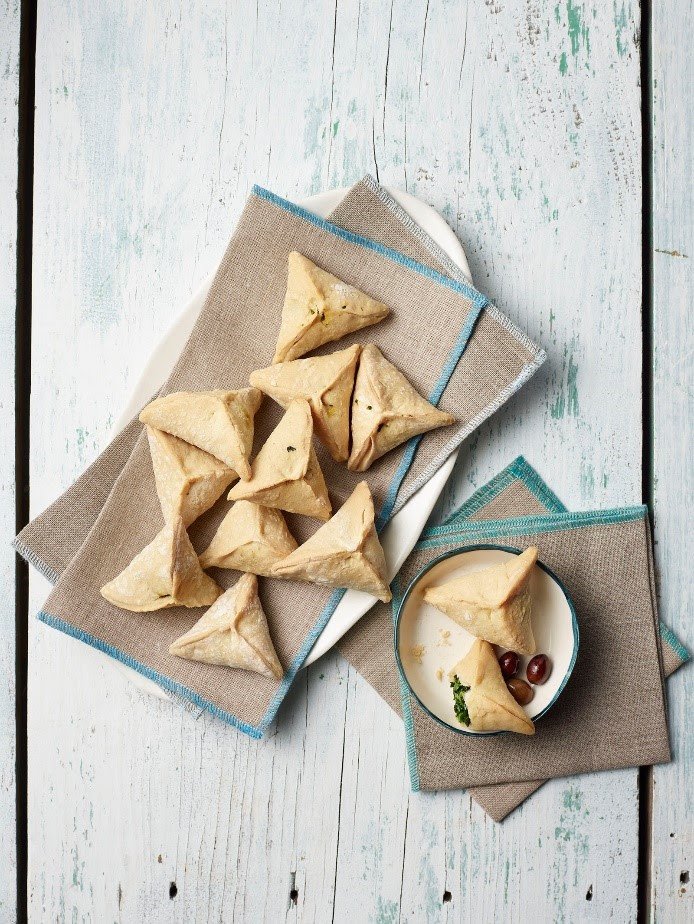 Fatayer are tender bread triangles stuffed with spinach, cheese, or meat. They originated in Lebanon and can be found in bakeries, street stalls, and home kitchens. They are a delightful snack to enjoy anytime, but are also served as special appetizers for holiday occasions. I always bake a large batch of these delicious little breads so that I can freeze them. Whenever I need to, I can defrost them and reheat them in the oven.
1 Tbsp active dry yeast
1/4 cup plus 1/3 cup lukewarm water, divided
2 cups unbleached, all-purpose flour, or barley flour, plus extra for work surface
2 Tbsp plus 2 tsp extra-virgin olive oil, divided
3/4 tsp unrefined sea salt, divided
1 cup frozen chopped spinach, thawed and drained well
1 medium onion, grated and drained well
Juice of 1 lemon
2 Tbsp fresh mint, chopped
Combine yeast with 1/4 cup lukewarm water in a large mixing bowl. Add flour, 1 tsp olive oil, and 1/2 tsp salt. Mix well until blended. Add remaining 1/3 cup water, a little at a time, until dough is smooth.
Turn dough out onto a lightly floured work surface. Knead dough until it is smooth and elastic (5–10 minutes). Oil another large bowl with 1 tsp olive oil. Place dough in bowl, and turn to coat. Cover with a towel, and let rise in a warm place for 1 hour or until doubled in size.
Preheat oven to 350°F. Line two cookie sheets with parchment paper or grease with oil. Take dough out of the bowl, and place on a lightly floured work surface. Lightly dust the top of the dough and a rolling pin with flour. Roll out the dough to about 1/8-inch thickness. Cut out 24 (3-inch) circles from the dough (the floured rim of a glass works fine).
Make the filling by combining spinach, onion, lemon juice, mint, remaining 2 Tbsp olive oil, and remaining 1/4 tsp salt in a medium bowl. Stir well to incorporate.
Fill a small bowl with water and keep it next to the dough. Fill each dough circle with 1 scant tsp of filling. Dip your fingers into the water, and wet the outer edges of the dough circles. Fold the bottom half of the circle up to the middle. Pinch in the top two sides of the circle to form a triangle. If the dough does not seal easily, use more water to coat the edges. Repeat with remaining dough circles.
Place 12 triangles on each cookie sheet, leaving space between them. Bake for 20–30 minutes until golden brown, making sure not to open the oven during the first 10 minutes of baking. Serve warm. (Tip: If you're making these in advance, let cool, place in an airtight container, and freeze for up to a month.)
Choices/Exchanges
1 Starch, ½ fat
Calories 120
Calories from Fat 30
Total Fat 3.5 g
Saturated Fat 0.5 g
Trans Fat 0.0 g
Cholesterol 0 mg
Sodium 160 mg
Potassium 180 mg
Total Carbohydrate 19 g
Dietary Fiber 4 g
Sugars 1 g
Protein 4 g
Phosphorus 100 mg
Amy Riolo is the author of The Mediterranean Diabetes Cookbook, 2nd Edition: A Flavorful, Heart-Healthy Approach to Cooking. She is an award-winning, best-selling author, chef, television personality, and educator.
For more information about Amy, please visit www.amyriolo.com.